As nature inspires us with autumn's beauty, one of the most cherished seasons is upon us. With cooler days and longer evenings, the smell of wood-burning stoves in the air, the forests are becoming awash with the fall leaves colours of yellow, orange and red. People from all corners of our province, Ontario and the northern states come to visit the Laurentians surrounding themselves with autumn's hues of colours and spectacular landscapes. Some of our guests of Auberge and Spa Beaux Rêves consider it to be the most beautiful time of year in the Laurentians. There is a myriad of ways to immerse yourself in nature's fall splendour. To experience the great outdoors, there are many outdoor activities available to us here in the Laurentians such as horseback riding and kayaking. But one of the best ways to appreciate the autumn colours is taking in the fantastic and outstanding panoramic views.
Enjoy a substantial hike or a casual stroll. There are a multitude of hikes leading to breathtaking views all within an hour drive from Montreal. Here are 5 of the best fall hike options based on popularity and variety of terrains for everyone to enjoy those sweeping colour-filled views of the Laurentians.

Ste-Adèle
Rivière Doncaster Loop is a 4.7 kilometer moderately trafficked loop trail located near Sainte-Adèle, Quebec, Canada that features a river and is good for all skill levels. The trail is primarily used for hiking and bird watching.
Saint-Donat
The Intercentre Trail, which has been in existence for more than 35 years, is a section of the National Trail that straddles the Lanaudière and Laurentian regions. The Lanaudière portion allows you to climb the summit of Montagne Noire and discover the 1943 crash site of an RCAF Liberator aircraft. With its 875 m altitude, this summit is the highest in Saint-Donat. The Mésangeai shelter is at 850 m.
Mont-Tremblant National Park, Pimbina sector
Saint-Donat
Discover the sugar maple-yellow birch stand in a typical mountain forest in the Mont-Tremblant national park and gaze upon the valley of the pimbina from atop the scenic viewpoint. (Interpretation trail)
Sainte-Béatrix
Three entrances: Saint-Jean-de-Matha, Sainte-Béatrix and Sainte-Mélanie. L'Assomption river with its three impressive waterfalls runs some five kilometers through the park. 17 kilometers of hiking trails lead you throughout this beautiful area via three bridges over the river.
The less adventurous visitors can enjoy the observation points and picnic areas at each entry. Children truly enjoy the games awaiting them at the Sainte-Mélanie entrance. From early May to Mid-October.
Notre-Dame-de-la-Merci
Mont Ouareau is a 3.3 mile lightly trafficked out and back trail located near Notre-Dame-de-la-Merci, Quebec, that features a lake and is rated as moderate. The trail offers a number of activity options and is best used from June until October.
Nordic spa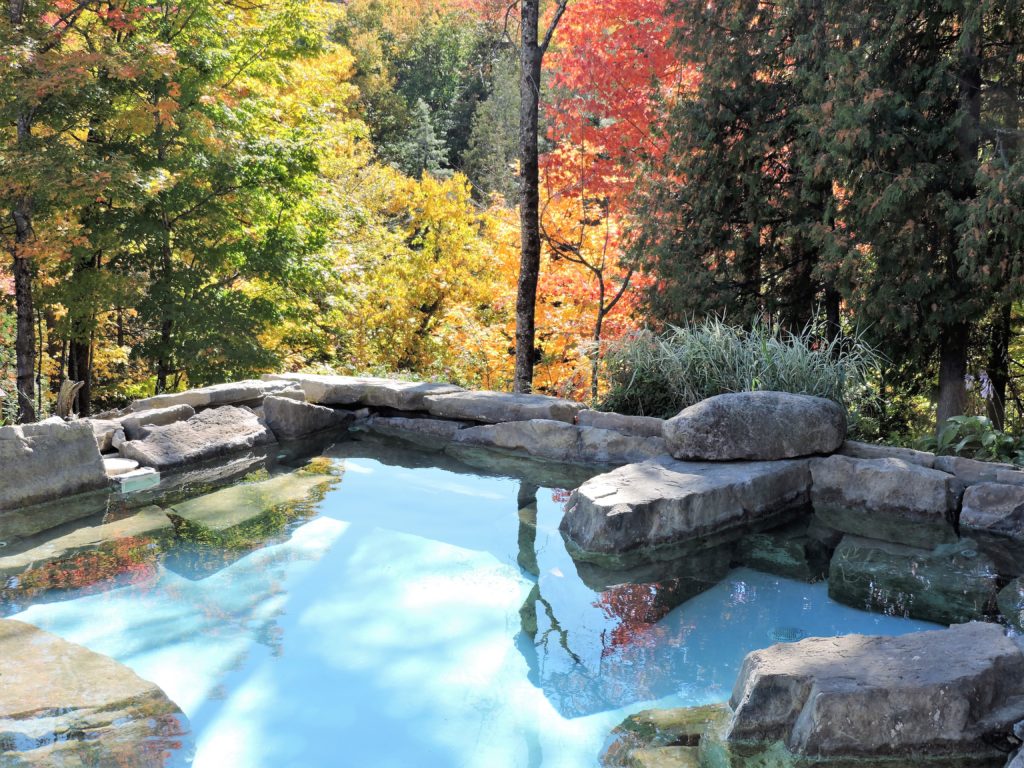 After a day of hiking and enjoying the stunning views of fall leaves, there is nothing better than to relax in our outdoor thermal ponds to sooth and soak your muscles. You can also enhance your senses in our aromatherapy room, tucked away in a peaceful corner of our Nordic spa overlooking our main thermal pool. Enjoy the access to 17 stations of pure relaxation including the usual saunas and baths, a salt room, and special detox and neuro chairs. The access is included with any day spa package or overnight stay. Even more sublime, have a restorative, relaxing massage.
Consider staying overnight at Auberge and Spa Nordic Beaux Rêves with our gorgeous rooms where you can fall asleep to the sound of the river flowing below.
Accommodations ideal for groups
If you, your family or group of friends are looking for a great place to stay, rent our Cozy Cottage for the weekend. It's part of our new Riverview property for group accommodations right next to our Auberge and Spa Nordic Beaux Rêves.
Secluded retreat
Couples or solo hikers can stay close to the river in our more secluded Riverside Retreat.
No matter which route you choose, we invite you to enjoy all the benefits of a relaxing, beautiful Nordic spa in the Laurentians for the day or weekend.