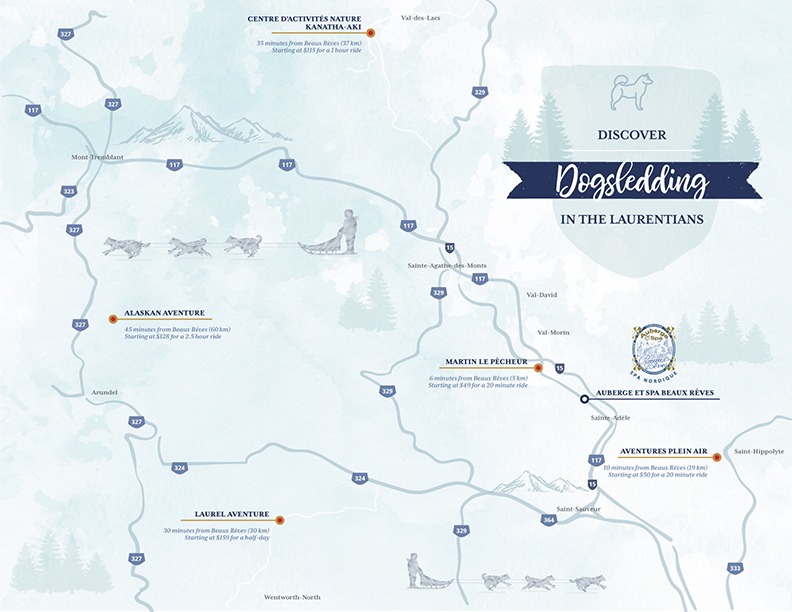 In the mood for an exhilarating winter adventure? The Laurentians region is the perfect location to try something that will be sure to satisfy your thirst for adventure: dogsledding. What could be more fun than exploring snowy trails while mastering the fundamentals of this traditional practice.
Nowadays, dogsledding is mainly a recreational activity, but in the past, it was the primary mode of transportation in the Arctic regions. It is a very ancient practice; Indigenous cultures were already breeding sled dogs thousands of years ago! It was when the first European explorers arrived in North America that they adopted this traditional native practice, to adapt transportation to the rigorous climate. The "coureurs des bois" of New France were the first Mushers, which means "dogsled driver". The term is derived from the French word "Marche!" that was anglicized, and became "Mush!", after the British conquest of New France. This mode of transportation would later contribute to the exploration of the Arctic regions, notably during the famous Klondike gold rush in Alaska.
For a long time, the dogsled was the primary mode of transportation in these areas; it was used to deliver mail, milk, or firewood to northern rural areas before it became obsolete with the arrival of the snowmobile. Obviously, our way of practicing dogsledding has changed a lot over time. In the past, we relied on the strength and constitution of the Malamute, as the dogs had to haul heavy supplies.
Today, we prefer the speed and endurance of the Husky, since the sled is much lighter, thanks to the use of modern materials. Want to know more?
Discover Dogsledding in the Laurentians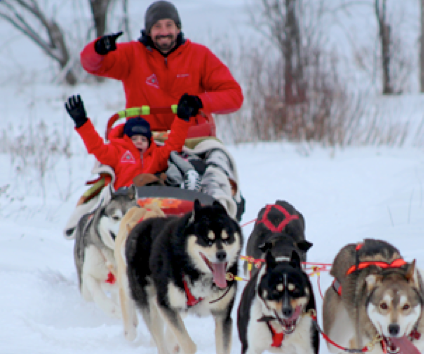 There are several places in the Laurentians region where you can dogsled, and here are some suggestions that might interest you:
Alaskan Adventure Tremblant
Alaskan Adventure Tremblant is located in the beautiful municipality of Arundel, very close to the Mont-Tremblant Ski Resort, and only 45 minutes (60km) from Auberge Beaux Rêves. With its amazing trails in the Quebec boreal forest, this is the prefect place to discover the exciting world of dogsledding. You will have the opportunity to visit a kennel housing a pack of 65 dogs (before and after the hike), to meet your leading dogs, to participate in the harnessing of your dog teams, to learn about how to drive a dogsled, to take a 1-hour trail ride through the forest, to enjoy some homemade treats offered midway, to return to the kennel and distribute rewards in the form of cuddles and dog biscuits, and to enjoy a hot soup at the West Fort restaurant (with alcohol license) while looking at your souvenir photos, all this in a cordial and friendly atmosphere.
The price for this 2-and-a-half-hour dogsled adventure package is only $128 per adult (18 years old and over), $96 per teen (13-17), $86 per child (6-12), and $60 for toddlers (3-5 years old).
Kanatha-Aki Nature Center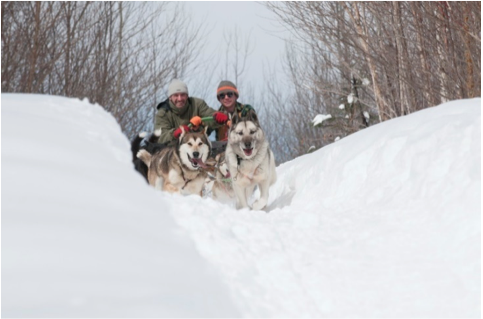 For a fully authentic dogsledding experience, the Kanatha-Aki Nature Center is a choice destination. Kanatha-Aki means "guardian of the boundless earth" in Algonquin. This traditional Native American-inspired activity center is in the wilderness of the Laurentian mountains. To get to Kanatha-Aki, it will only take you 35 minutes (35km) from Auberge Beaux Rêves. The center offers a wide variety of dogsledding packages.
For a simple visit of the kennel, the price is $15 per adult, but it's free for children. For an introductory dogsled ride, the price is $115 per adult and $95 par child (8 years old and under). For the more experienced mushers, you can opt for an hour and a half ride at $149 per adult and $119 per child. The site also hosts the first Quebec reserve of Athabasca wood bison, which you can visit during your three-hours dogsled ride, at a price of $199 per adult and $135 per child. If you prefer ice fishing, you can also opt for a three-hour ride with a trout ice fishing stop for $212 per adult and $159 per child.
For a taste of the coureur des bois lifestyle, you can also opt for a five-hour ride, at $399 per adult and 299$ per child, or even a two-day expedition for $499 per adult and $399 per child!
Martin le pêcheur activity centre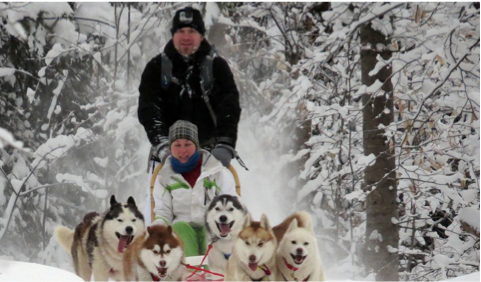 Located in Sainte-Adèle, Martin le Pêcheur Activity Center is only six minutes (5km) from Auberge Beaux Rêves! You will have the opportunity to spend unforgettable moments with your family, friends or romantic partner, while enjoying dogsledding in the magical setting of an old maple and fir grove. After theoretical and practical training, you will be able to drive your own dog team under the careful supervision and guidance of a professional guide. You will learn all the basics and safety instructions that are needed to ride the sled. You will also have the opportunity to meet a pack of 24 enthusiastic dogs that are just waiting for you to go explore the trails.
Prices vary depending on the duration of the hike, ranging from $49 per adult and $39 per child (1 to 10 years old) for a 20-minute hike, to $149 per adult and $99 per child for a one hour and 20 minutes hike.
Laurel Aventure Nature
Built in the heart of nature to offer a multitude of activities in an enchanting setting, Laurel Aventure Center is designed to allow you to experience a wonderful time by allowing you to drive your own dogsled! You will learn all the basics of dogsledding during a one-hour theoretical and practical course. Then, you will be able to put your skills to the test during a thrilling adventure, in which you will be the master of your own dog team and you will get to ride for an hour and a half. Professional guides will be there to supervise every moment of this hike on their own dogsled to ensure the safety of everyone. During your ride, you will also have the opportunity to take a halfway break to enjoy a good hot tea while contemplating the majestic landscape.
Located just 30 minutes (30km) from Auberge Beaux Rêves, this center offers several packages: for a half-day dog​sledding adventure, the cost is only $165 per adult ($159 after January 10) and $99 per child (5 to 9 years old); You can also opt for a dogsled and snowmobile package at $329 ($509 for two people), or for a dogsled and snowshoe package at only $199.
Aventure Plein Air
Located on the shore of Lake Morency, which is 30 minutes (19km) from Auberge Beaux Rêves, Aventure Plein Air offers a variety of trails specially designed for dogsled driving for all levels of expertise. If this is your first ride, experienced mushers will familiarize you with all aspects of dogsledding. As soon as your 45-minute training is completed, you can enjoy a short 20-minute ride along the completely frozen banks of Lake Morency.
Since the difficulty level of this excursion is easy, it is an ideal package for your first time with young children. The price of this package is only $50 per adult and $35 per child (12 years old and under). If you are a true dogsledding enthusiast, you can opt for a one-hour ride in the forest, following mountainous and snow-covered trails. For this package, which difficulty level is moderate, the price is $125 per adult and $85 per child.
One hour is not enough? You can choose to go with the half-day package, which includes a three-hour activity and a two-hour excursion in the forest. For this package, which difficulty level is hard, the price will be $215 per adult and $185 per child. But if total immersion in the world of dogsledding is what you are looking for, then there is the real deal package! This $399 package, of a duration of six hours and which difficulty level is intense, is for dogsledding enthusiasts of ages 12 and older.
Frequently asked questions (FAQ)
What clothes do I need to bring to go dogsledding?
To go on a dogsledding adventure, you need to bring appropriate winter clothing, as you can remain inactive for a long period of time on the dogsled and that, depending of the weather conditions, it can get very cold, windy and damp. For the feet, you should bring thick socks and comfortable winter boots; for the body, a winter coat and ski pants; for the head, a hat and a neck warmer (a ski mask or glasses are also recommended); for the hands, mittens or ski gloves.
How fast are dogsleds?
The speed of the dogsled will vary depending on the breed of the dogs, the number of dogs in the team (from 2 to 16 dogs), the weight of the sled and the weather conditions. The average speed of a dogsled is 20 km/h, but it can vary from 10 to 30 km/h.
Is food allowed on dogsleds?
You can bring your own snacks and water bottles on your dogsled ride. Depending on the duration of your ride, you will also need to bring your own lunch for meal times, although hot drinks and/or hot meals are often included in the packages. In any case, it is strictly forbidden to consume alcohol on the dogsleds.
Is there a break during the excursions?
Most packages will offer a halfway break when the duration of the excursion exceeds one hour. You will then be able to regain your strength while taking part in various activities.
Beaux Rêves dogsledding packages
Auberge Beaux Rêves also offers several packages that allow you to try this amazing activity. With our dog sledding packages, which include a 10-25 minutes driving lesson followed by a test drive of equivalent duration, you will be able to enter this exciting world while enjoying all our amenities. These packages are available for one or two nights stay, but you can also choose from our other packages that combine dog sledding with other winter activities. Auberge Beaux Rêves offers a « two nights, snowmobile and dog sled » package as well as a « five-day snowmobile, dog sled and snowshoe » package.
Regardless of the package chosen, you will get to enjoy our country breakfasts, 1 one-hour spa treatment, and much more. You will also have access to our Nordic Spa for a well-deserved relaxation session after a day of unforgettable winter adventures. Take note that warm clothing is required for dogsledding: winter coat, ski pants, snow boots, gloves, hat, etc.
If you have any questions, we invite you to contact us today. We will be happy to answer all your questions and help you plan your dogsledding adventure in our beautiful Laurentians region.