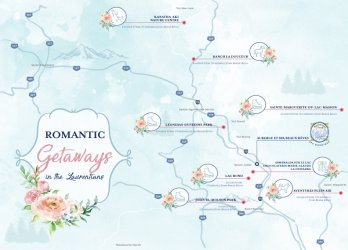 Numerous romantic getaways to discover in the Laurentians. Winter is a beautiful season, both for its magical landscapes and all the celebrations it brings. But the winter season is also synonymous with shorter, darker days, lack of sun and low spirits; our energy levels take a drop, we feel more tired and we are less active. It is also common to hear people say that February is a particularly difficult month to get through, mainly because the holiday season is over and we feel like the cold and grey weather will never end. But February is also synonymous with love and romance!
Valentine's Day is the annual opportunity to show your significant other your affection and, more importantly, to spend quality time together. It is the perfect way to take a break from the harsh month of February and bring a little warmth to its cold winter nights. At Beaux Rêves, we've got you covered! And the haven of romance we offer you is not limited to Valentine's Day: we have for you several typical wintery activities that you will have the opportunity to enjoy with your romantic partner throughout the season.
Come and enjoy the charm and serenity of the beautiful Laurentian region. You will discover a variety of romantic winter activities that will be sure to satisfy your thirst for adventure. Whether you like the outdoors, gourmet discoveries or relaxing activities, you will be sure to find what you need in our beautiful region.
Here's a quick list of winter romantic getaways and activities that are offered in the beautiful Laurentians:
Horseback riding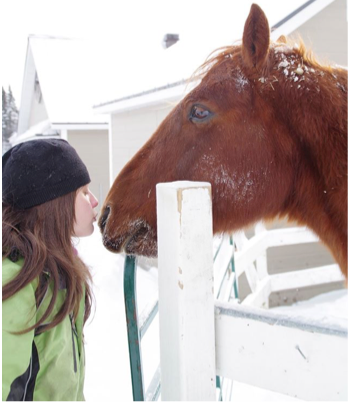 What better way to reconnect with your other half than to go on a romantic horseback ride on enchanting trails? This activity will without a doubt capture your romantic imagination.
Ranch La Douceur, located only 11km (11 minutes) from Beaux Rêves, is a perfect place to learn how to horseback ride. For a private introductory session on English or Western saddle, the price is $35 per person, and for a private ride (with a guide) lasting from one to two hours (brushing and saddling of the horse included) the price is $40 per person. The site also hosts more than a hundred animals (goats, sheeps, donkeys, llamas, alpacas, ducks, rabbits, deer and ponies, in addition to the horses!), which you will have the chance to pet during a guided tour for only $5 per person.
For an authentic riding experience in the heart of the Laurentian wilderness, it's the Kanatha-Aki Nature Activity Center you must visit. This Native-American inspired nature center is located 37km (35 minutes) from Auberge Beaux Rêves and, among the many activities it offers, there is a variety of horseback riding packages. With the « adahy » horse tour package (which means « life in the forest » in Algonquin), you can enjoy the wilderness on a one-hour ride, for only $55 per person (an ideal package for beginners). As for the « tatanka » package (which means « bison »), it will give you the opportunity to see wood bisons on their trails on a one-and-a-half-hour tour, for only $80 per person. But for the perfect romantic horseback ride, there is the « donoma » (meaning « where the sun is »), which will allow you to go to the top of a mountain to enjoy a spectacular sunset during a 1 hour 55 minutes to two hours ride, for $115 per person.
Horseback riding is a relaxing outdoor activity, but it can also be physically demanding. It is necessary to be well prepared to make it thoroughly enjoyable, especially in winter conditions. Dress warmly and comfortably: winter coat, hat, neck warmer, gloves, warm socks and sunglasses for sunny days; ski pants are not recommended because they are slippery and will affect your stability. Special attention should be given to boots: they must be narrow enough to be comfortable in the stirrups and they must have a small heel to grip them well.
Ice skating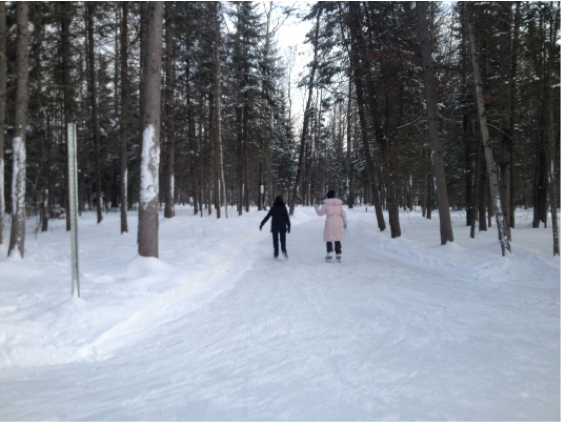 You would rather skate under the stars while holding hands? Well, you're in luck, because there are several outdoor skating rinks very close to Beaux Rêves, and they are all free of charge (and lit)! The Parc Leonidas-Dufresne skating rink is a wonderful location for romantic leisure skating. Located in Val-David, only ten minutes (10 km) from Beaux Rêves, it remains open until 22h every day.
You could also go to Sainte-Marguerite-Du-Lac-Masson, about twenty minutes (18km) from Beaux Rêves, to skate along a winding path of nearly 8km and enjoy the breathtaking view! And if you don't own skates, don't worry, you can rent them on site.
You will also find near Beaux Rêves the Lac Rond skating rink, in Saint-Adèle (6km), and the John H. Molson Park skating rink, in Saint-Sauveur (15km). Don't forget to call before going to make sure the ice conditions are adequate.
Dog sledding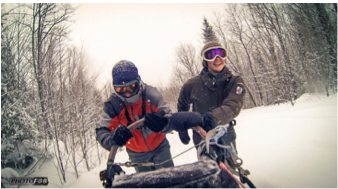 If you are looking for an original romantic activity, why not get acquainted with the ancestral art of dog sledding? This is the perfect activity for couples who love outdoor adventure.
Several locations in the Laurentians region offer this thrilling activity, including Aventure plein air. This center is at the edge of Morency Lake, which is located only thirty minutes (19km) from Beaux Rêves. Whether it's your first time or you're an experienced sledder, they will adapt to your needs to offer you a unique experience in dog sledding. For the « initiation » package, lasting 45 minutes, you will receive a driving lesson offered by a professional guide, as well as a ride on flat land. This package is ideal for beginners and it only costs $50 per person. The center also offers the « 1-hour forest walk » package, during which you will be treated to a driving lesson by a professional guide and a hike in the mountains. This package is perfect for more experienced drivers and it costs $125 per person. But if it's a great adventure you're looking for, then the package « total immersion » is what you need. With a duration of 6 hours and at a price of $399 per person, this package will give dog sledding enthusiasts a ride to remember.
For a more traditional dog sledding experience, visit the Kanatha-Aki Nature Activity Center, which also offers a wide variety of packages. Among these, there is an introductory walk of one hour at a price of $115 per person, a ride of an hour and a half, at a price of $149 per person, a three-hour walk with a meeting with wood bisons, for $199 per person, a three-hour ice fishing trip for $212 per person, and many others. This nature activity center also offers a day-and-a-half romantic package, which includes a three-hour ride in breathtaking nature, a meeting with the Athabascae Wood Bison, a night in a mountain refuge at the top of a mountain with majestic views, a romantic evening to enjoy a real Swiss fondue and, for the following day, a snowshoeing adventure. For this incredible package, the price is only $299 per person.
Dogsledding is certainly an exhilarating activity, but to have a good time, it is important to be well equipped. Since the average speed of the sled is 20km/h and winter conditions can sometimes be particularly harsh, better dress warmly to enjoy this activity. Winter clothing that will protect you from the wind and humidity are a must (winter coat, ski pants and gloves, hat, neck warmer, winter boots, and sunglasses or ski goggles for sunny days).
Culinary adventures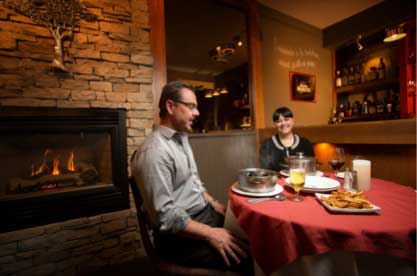 Why not end this beautiful day filled with emotions with a romantic dinner? Located in the heart of the Laurentians, the beautiful city of Sainte-Adèle is a true culinary gem, full of unique gourmet discoveries. To enjoy a meal that is both delicious and refined, Restaurant Chez Milot is the perfect place. In a warm and friendly atmosphere, you'll have the opportunity to enjoy a 4-course table d'hôte that will delight the gourmand palates! It features a potage, a choice of five entrees, such as the three mushrooms escargots à la bordelaise or the scallops ceviche with mango and avocado, a choice of eight main dishes, such as the beef or salmon tartar with arugula salad and straw potatoes or the duck breast glazed with honey and port with wild fruits, and a choice of three desserts, like the crème brûlée or the cheese cake with its coulis. Restaurant Chez Milot is the perfect location for a romantic night out with your significant other, since it's synonymous with rich flavours and a warm atmosphere.
The Italian restaurant Esmeralda sur le Lac is also an establishment of choice when it comes to spending a romantic night out. Located on the shores of Lac Rond, in Sainte-Adèle, this restaurant offers savory dishes and an outstanding view on the lakeshore, in addition to a warm and intimate atmosphere.
It's impossible to talk about romance without talking about chocolate! Chocolaterie Marie-Claude, also located in Sainte-Adèle, is an artisanal chocolate shop where you will find plenty of sweet delights to complement and sweeten your romantic evening.
Romantic Getaways at Auberge & Spa Beaux Rêves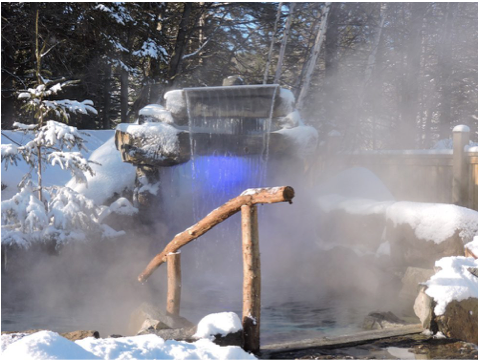 Once you're back at Auberge Beaux Rêves after a busy day, you will have the opportunity to enjoy our Nordic Spa facilities, which were cleverly designed to promote relaxation, serenity and intimacy. Our Nordic spa has everything you need to a wonderful romantic getaway time: a natural stone thermal pool, a pool with jets, whirlpool and falls, a Finnish sauna with a barrel, a eucalyptus steam sauna, a cold pool with waterfall and even a relaxation area, including infra-red lights, hammocks and zero-gravity chairs.
You will also have the opportunity to enjoy our excellent range of spa treatments during your stay, whether it's one of our four types of massage (Swedish massage, reflexology, hot stone massage and lymphatic drainage) or one of our body and beauty treatments (facial, exfoliation and wrapping with seaweed, mud or chocolate).
Contact us today for more information about our romantic getaways packages. We will be happy to answer all your questions and help you plan your romantic getaway in the Laurentians this winter.