2015 is an important milestone for our auberge and spa in the Laurentians. On December 15th, 2015, Auberge & Spa Beaux Rêves is celebrating its 20th anniversary! In honour of this significant achievement, we wanted to share a little bit about our auberge and spa's history and our evolution into one of the most acclaimed day spas and outdoor Nordic spas in the Laurentians.
Renovations through the Years
It all started in 1995, when Hannes Lamothe purchased a single family home and converted it into a small four bedroom bed and breakfast. Hannes still owns and manages the auberge today and is the driving force behind the evolution of the Nordic spa on the picturesque property by the river.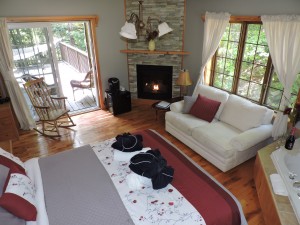 Beaux Rêves has undergone several renovations over the years to make it into the inviting 13 room auberge and spa that it is today. Shortly after opening, an extension was added in the back to add additional rooms and a deck facing the river was built. Our second building overlooking the river was added in 2002; six suites and a loft were added, all with in-room fireplaces and Jacuzzis.
In June 2015, our loft suite was converted into 3 new contemporary and luxurious "Signature" Suites. In our Signature Suites, guests will enjoy a warm, relaxing environment, a large private furnished balcony overlooking the river, a fireplace, a Jacuzzi, a mini fridge and a Keurig machine.
Our Continuously Evolving Nordic Spa
In the early days, guests greatly appreciated our outdoor Jacuzzis. We even dabbled in thermotherapy by suggesting a dip in the cold river water in the summer or rolling around in the snow in the winter!
However, it's in 2009 that Hannes' vision of a Nordic spa truly came to life and many renovations and additions were made to the spa. Several rooms were transformed into changing rooms, and a relaxation room and steam room were added to offer a day spa to clients and guests.
At this time, Beaux Rêves also began offering an array of highly rated spa treatments, all provided by our spa's experience technicians and therapists.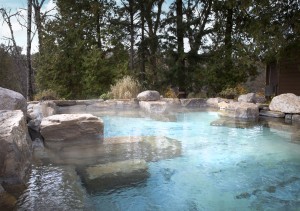 2013 was a landmark year for our Nordic spa. We expanded our facilities, adding a second sauna, an infra-red zone, a cold waterfall and a natural stone thermal pond.
Most recently, in November 2015, we installed a second natural stone pond with jets!
Although our Nordic spa and treatments continue to expand, we always keep our capacity to 40 spa-goers at time in order to maintain a relaxed, uncrowded atmosphere. Learn more about our Nordic spa in the Laurentians.
Recognition from the Tourisme Industry
All the efforts to make Beaux Rêves more attractive and to offer an outstanding service to our guests was rewarded in 2014, when our auberge was the winner of the Grand Prix du Tourisme, in the 40 units or less lodging category, for the Laurentian region.
Our Auberge and Spa Today
Whether you come up for the day or spend the night, our guests agree that our auberge and spa is truly a hidden gem in the Laurentians. Beaux Rêves is the ideal getaway in the Laurentians for a relaxing getaway for couples, friends and groups.
Our auberge and spa has evolved exponentially over the last 20 years and we can't wait to see what the next 20 years brings! And while Beaux Rêves will without a doubt see countless changes over the next 20 years, one thing's for certain, the warm and friendly atmosphere and staff will always remain the same!