Cross country skiing, snowshoeing, dog sledding, skating are among numerous winter activities to do the Laurentians this winter. The Laurentian region north of Montréal, is a superb place to be all throughout the year. The summers are refreshing and the autumn season can be the most magical of all with thousands of kilometres of colorful foliage. Winter in the Laurentians is nothing less than wondrous and filled with adventure. With countless winter activities, the Laurentians is the playground for the winter and adventure-lover alike. Below are a number of locations in the Laurentians to enjoy the best winter activities in the area.
Cross Country Skiing and Snow Shoeing in the Laurentians
Park Régional de la Rivière Doncaster: Park Régional de la Rivière Doncaster is located just 50 minutes from Montreal. This corner of the countryside a few minutes east from Sainte-Adèle is a key location for hikers during the summer and fall season. During the winter seasons, hikers put on their snowshoes and head for the trails at Doncaster Park and immerse themselves in the beauty of this location covered in a blanket of snow. Here you will find 6 trails that are 16 km's combined from both easy to intermediate.
Parc Régional Val-David-Val-Morin : Located on 5966, Chemin du Lac-La Salle in Val-Morin, Quebec, the Far Hills Sector of Parc Régional Val-David-Val-Morin welcome snow shoeing and cross country skiing enthusiasts alike. Less than an hour from Montréal and less than two hours from Ottawa, snowshoers find 30 km of trails and 17 trails ranging from easy, intermediate and difficult while backcountry skiing enthusiasts have 63 km of trails or a total of 31 trails. These trails range from easy, intermediate to difficult as well. The Parc Régional Val-David-Val-Morin is surrounded by many breathtaking views including that of Mont Césaire, Mont Condor West, Mont Condor East, Mont King, Mont Plante, Mont Saint-Aubin, Mount Iceberg and Lake Amigo. Also, those coming up for cross country skiing will be pleased to know that there is a skate skiing trail to enjoy! Take a look at their activities, rates, and learn additional cross country skiing information here.
Here is a detailed map of the Parc Régional Val-David-Val-Morin: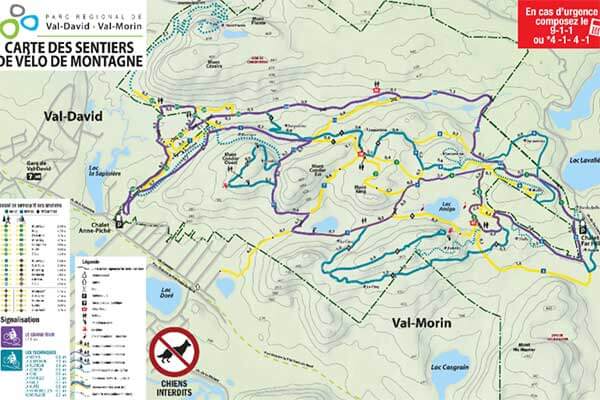 Centre de plein air camping Sainte-Agathe-des-Monts : Located in the heart of the Laurentians, Sainte-Agathe-des-Monts contains the breathtaking scenery of Lac des Sables and 12 km of trails or 2 trails. The trail rating is intermediate. This is the perfect location for those who want a relaxing and easygoing snowshoeing experience in the countryside. Cross-country skiiers have over 48 km of ski trails for all levels of skiers.
Skiing in the Laurentians
Ski Mont Gabriel: The Laurentians is known for its widespread forests, mountains and small town atmosphere. With over 12 ski resorts and 300.9 km of slopes, the Laurentians is known to be the largest ski concentration in Eastern Canada. The Ski Mont Gabriel ski resort is suitable for all ski types, from beginner to extreme, loved by the cross country skiing enthusiast and hill skier, with 21 trails including a fun park and glades for youngsters. There are a number of 5 lifts and 53 acres or 22km of lit trails for the night skier. Their rates are exceptional, too!
Ski St Sauveur: The Mont Saint-Sauveur ski resort is a location for both skiers and snowboarders. It includes 38 km of slopes available for the winter sport enthusiast and 7 lifts with an elevation of 416 and 629. A special characteristic of this Laurentians ski resort is the many trails that run through the forest from the peak down to the Ski st Sauveur valley. You can also enjoy a Perfect Pass starting at just $199. Click here to learn more about the Mont Ski Saint Sauveur resort.
Ski Chantecler: Ski Chantecler first opened in 1970 and is a ski resort located right in Sainte-Adèle in the Laurentians. With major investments put towards the Chantecler site since 1999, this ski site includes a new quad chairlift, an improved snowmaking system and a magic carpet to help young children learn how to ski. The atmosphere is both beautiful and peaceful and offers skiers both the chance to relax and unwind while enjoying the ski slopes of the Lower Laurentians. Ski Chantecler also offers ski lessons including a 10 week program, a program for beginners and private lessons.
Dog Sledding in the Heart of the Laurentians
Aventures Plein Air: Dog sledding Canada is something everyone should experience in their lifetime. There's nothing quite like the thrill of taking a dog sled ride through the woods or on the frozen lakes. One of our favorite places for dog sled rides is Aventures Plein Air, situated on the lakeside of Lac Morency in the Laurentians. Visitors have the option to drive a dog sled or go with a guide. You'll be able to travel through trails especially groomed for dog sledding. Bringing a camera is recommended to capture both the experience and the breathtaking views and surprises you'll encounter. Learn more about the dog sledding packages at Aventures Plein Air here.
Ski Mont Gabriel, Sainte-Adele: Ski Mont Gabriel is located in Sainte-Adèle and is about 70 km away from Montreal. Though known as a ski resort, Mont Gabriel is also a place where adults and families can enjoy the thrilling experience of dog sledding and a variety of other winter activities. The resort has 18 trails and a 200 metre vertical drop or 656 ft. Multi-day dog sledding trips are very popular at Mont Gabriel. Check it out here.
Centre d'activités Nature Kanatha-Aki: Centre d'activités Nature Kanatha-Aki is located in the Laurentians and near the magnificent landscape of the valley and forest surrounding Morency lake. This centre is notable for their 5 hour dog sled package. This package includes a 5 hours dog sled excursion that teaches you how to better understand the craft of guiding a dog sled through the landscapes of the northern region. Midway through the excursion, you are stopped for a break and a meal in the heart of the forest. This is the perfect activity for someone who wants absolute thrilling adventure. If the 5 hour excursion is not your thing, Kanatha-Aki also offers mushing for 1 hour. Learn more here.
Do You Prefer to Skate in the Laurentians?
Do you prefer to skate across a beautiful ice skating rink in the Laurentians instead? There are 4 skating rinks that we think you'll enjoy. For those who want to go ice skating in the Val-David region, Patinage Parc Léonidas-Dufresne is ideal. Located on 2525, rue de l'Église, this skating rink is perfect for both free skating and those who want to start a game of ice hockey. Lac Masson is also a reputable skating rink on the lake of Sainte-Marguerite-du-Lac-Masson, Quebec. In fact, at approximately 8 km in length, Lac Masson is known as the longest skating rink on a lake in the province. Our two other favorites are Patinage Chalet Pauline-Vanier located in Saint-Sauveur and Patinage Lac Rond in Sainte-Adèle.
Nordic Spa
Come on over to the Laurentians for a day filled with winter fun and then relax by soaking in our Nordic Spa!
The Laurentians is the perfect location for those looking for a getaway filled with seasonal activities and adventure. Whether you come up for a day filled with skiing, snowshoeing or dog sledding, we encourage you to come on over to Auberge and Spa Beaux Rêves right after for a moment of complete relaxation in the heart of nature. Call us at 1-800-279-7679 (Montreal: 514-316-7808) or email us at info@beauxreves.com to reserve any one of our highly rated Laurentians spa treatments today.