It sets in around this time every year – you're fed up with the cold, you miss seeing the sun after 4 PM, and you start daydreaming of the ocean and palm trees; it's called the "Winter Blues". Luckily, you don't have to escape to an island in the Caribbean to beat it – the cure is just a 45 minute drive away, at our Nordic spa in the Laurentians. Here are our suggestions to help you beat the winter blues this season:
Relieve Stress with a Massage
Don't bottle it all up! Massage therapy is a simple, non-invasive way to reduce stress levels, help slow your heart rate, and bring down your blood pressure. It's science – a massage will reduce your cortisol level (also known as the stress hormone), while increasing your level of endorphins (your body's "feel good" chemical"). So schedule a massage and let one of our expert technicians relieve your stress!
Help Ease Congestion with a Steam or Jacuzzi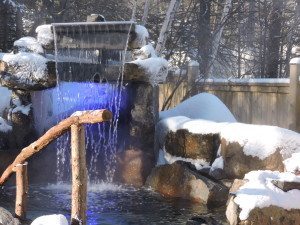 Has the winter weather left you congested and sneezing? Forget chicken noodle soup and ginger tea, a Nordic spa day is what you need to feel like yourself again.  Breathe easier and beat the winter cold with a sauna or a soak in the Jacuzzi.  The heat and steam from the sauna or Jacuzzi will help clear up your congestion from your nose to your chest. In fact, adding eucalyptus, a natural decongestant, will intensify the benefits of the steam; a steam in our eucalyptus steam room will undoubtedly do the trick!
Unplug Completely  
Sometimes, all you need is a little "me time". Escape it all and spend a few technology-free and stress-free days at the spa. Put down phone and spend a few days enjoying spa treatments, soaks in the Jacuzzi, steams, and much more. In fact, our auberge and spa believes that completely unplugging is great for your health and mind; our rooms do not have televisions, phones, radios or clocks. A few days unplugged at our Nordic spa will leave you refreshed and ready to face what's left of winter!
Rejuvenate Your Skin
The winter can be particularly harsh on your skin; it can leave it dry, dull, itchy, and even cracking. A trip to the spa to exfoliate your skin is important to rejuvenate your skin, as well as help your skin produce natural moisture. Schedule an exfoliation treatment to scrub away those dead skin cells and revive your skin.
Spend Quality Time with Friends and Family
Nothing can lift your spirits like quality time with friends and family. Schedule a weekend getaway at the spa to catch up and relax with loved ones. A few days of laughter and relaxation will leave your mind, soul, and body refreshed – and "winter blues" free!
Our auberge and spa in the Laurentians has everything you need to kick the winter blues this winter. At our Nordic spa, you'll enjoy a natural Jacuzzi with jets, a natural thermal stone pond, a Finish barrel sauna, a eucalyptus steam room, an outdoor relaxation area, and more, as well as many highly rated spa treatments.
Reserve your getaway online or by phone at (800) 279-7679 or (514) 316-7808 and let us help you beat the winter blues today!