Just an hour's drive from Montreal, the Laurentians serve as an extraordinary backdrop for experiencing the very best of Canadian winters. With a plethora of activities to choose from, your winter retreats in the Laurentians could be truly special.
Read on to learn more about the various winter activities that this region offers. There's something for everyone. You can try one, a few, or all!
1)  Cross-Country Skiing
The most iconic landmark of the Laurentians is le P'tit Train du Nord, the longest linear park of its kind in all of Canada. Groomed skiing and cycling trails run along an old railroad between Bois-des-Filion to Mont-Laurier and pass through many lively towns and villages that boast a wealth of restaurants, boutiques, art galleries, cultural activities, and heritage railway stations.
With over 40 kilometers of excellent ski trails between Saint-Jérôme and Val-David, le P'tit Train du Nord is every cross-country skier's ultimate delight. Take in the sights and sounds along the way and choose your own route.
Learn more about cross-country skiing in the Laurentians
2) Snowshoeing
This is one winter activity that appeals to all ages. Snowshoeing is a great way to walk across the picturesque landscapes of the Laurentians. Just a few minutes east of Sainte-Adèle, the Regional Park of the Doncaster River offers 6 trails varying from easy to intermediate spread over 16 kilometers. You can enjoy a short, leisurely walk, or go further along the trails to explore the area. If you are more experienced and seeking a greater share of adventure, you can try the more steep and difficult trails.
3) Dog Sledding
Dog sledding is something that everyone should experience at least once in their lifetime. These magnificent animals are not just a feast for the eyes, but their endurance, strength, and skill, combined with an unmatched temperament that aims to please, protect and serve their human friends, is heart-warming. Go with a guide, learn the basics of dog sledding, or become the 'musher' and lead your group in this immersive and exciting activity.
Combine the thrilling rides on frozen lakes or wooded forests with a fantastic lineup of relaxing treatments by booking one of our Dog Sledding package. After racing around in a sled pulled by these high-energy dogs, you will look forward to relaxing in a thermal pond or whirlpool tub.
4) Snowmobiling
A top-notch destination for snowmobiling, the Laurentians feature over 5,500 kilometers of scenic trails for some adrenaline-rushing rides. Cover up with your balaclavas and layer up snugly to explore this region on a mean machine. Whether you prefer half-day tours or longer, sporty rides, there are snowmobiling packages for every taste. You may be lucky enough and see some deer along your ride.
5) Ice Skating
About 20 minutes from Sainte-Adèle, the Centre de Plein Air Roger Cabana boasts an ice forest trail in the most magical natural setting. The scenic wooded areas serve as a great backdrop to practice your spins and jumps or simply glide. Just grab your toques, gloves, sweater, and blades, head out to the Laurentians and take your pick from an assortment of beautifully manicured rinks.
6) Downhill Skiing
Offering the largest concentration of ski areas in Eastern Canada, the Laurentians feature 13 stunning ski stations, including Mont Saint-Sauveur, Chantecler, Ski Morin Height, and Belle Neige.
Whether you are an expert skier or you are waiting for your first tryst with the ski slopes, the Laurentians cater to all skill levels. It's a great place to learn to ski as well as to refine your skills by testing the more challenging slopes. When you've enjoyed an adventure-filled day, you can look forward to unwinding and relaxing with family and friends.
7) Fat Biking
The interest in fat biking has been increasing for some time now. Thanks to its oversized wheels, the fat bike can ride on snow and ice, mud and sand. You can practice this activity everywhere in the province of Quebec and the Laurentians are no exception with their trails that are just waiting for you. Whether it is on the trails of the P'tit Train du Nord, those of the Mont Loup-Garou Park, or the Chanteclerc, this activity will allow you to reconnect with the joys of winter.
8) Winter Zip Lining & Via Ferrata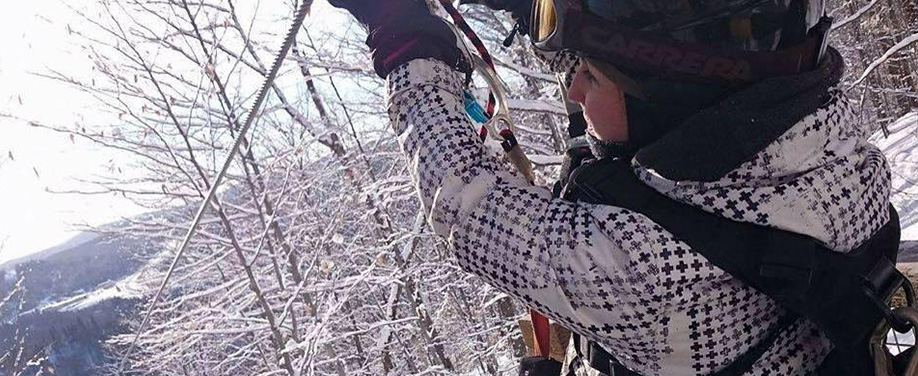 Thrill-seekers will love both winter zip lining and Via Ferrata at Tyroparc in Sainte-Agathe-des-Monts.
Only 20 minutes from Sainte-Adèle, Tyroparc offers some of the longest and highest mega zip lines in Canada. Get the thrill of your life while zip lining through the beautiful winter Laurentians landscapes.
If you feel more adventurous but are no climbing expert, you can also try the Via Ferrata, a fairly new activity in Québec that combines hiking and rock climbing. Alone or with your family, climb the mountain safely and reach its top to admire winter views of the entire region.
9) Tubing
An ideal family outing especially with young kids, snow tubing is definitely the most entertaining of all the winter activities! It's easy, it's fun, and anyone can try it. You don't need any training or special skills to just sit in a big rubber tube and slip-slide down the mountainside in glee. The majestic Glissades des Pays d'en-Haut is a wonderful site to create fun memories with your loved ones. With 37 different tracks from toddler to expert slopes, snow tubing in the Laurentians will have you coming back for more.
Making the Most of Your Day
Why not make your winter outing in the Laurentians a complete family or couple retreat by booking a cottage rental or a suite in this spectacular region? Our Auberge & Nordic Spa Beaux Rêves in the heart of Sainte-Adèle is an excellent choice for fun-filled winter getaways. With quaint, traditional styling and a warm and welcoming ambiance, our Cozy cottage and auberge are ideal for small groups or couples. Next to the auberge, you'll find a secluded nordic spa where you can enjoy a restful and rejuvenating break at the end of your adventure activities in the Laurentians.
Get in touch with us to book any of our spa or accommodation packages or learn more about our cottages for rent in the Laurentians here.