Auberge and Nordic Spa Beaux Rêves has recently unveiled its new space for rent, Espace Harmonie, located in our picturesque auberge in the Laurentians.
This amazing multi-functional space will allow yoga and meditation instructors, as well as various event organizers, to benefit from our riverside facilities and ideal location in the Laurentians to offer their clients an unforgettable experience.
Yoga sessions will also soon be offered by our auberge for our guests wishing to relax and enjoy a spa and yoga day or add it to an accommodation package. See our yoga activity section for more information.
Discover Espace Harmonie 
Available for daily rentals or for a few days retreat, our Espace Harmonie, located in Sainte-Adèle, can accommodate 12 to 16 people in a serene and relaxing environment.
Our scenic multipurpose room for rent is perfect for yoga, meditation, and Thai Chi classes and for small events such as meetings, celebrations, and exhibitions. With its large windows, sliding doors opening to balconies, and beautiful hardwood floors, you will appreciate the brightness, comfort, and versatility of the Espace Harmonie.
Yoga and meditation instructors can offer a multi-sensory and relaxing experience to their clients and guests by renting this splendid room. With its beautiful view of the Rivière Aux Mulets and the auberge's nordic spa, Espace Harmonie allows you to teach classes to the sound of flowing water, surrounded by nature. In the evening, take advantage of the ambient lighting on the site and the spa to relax.
Weather permitting, the auberge also offers yoga and meditation instructors the use of its spacious grounds to conduct outdoor classes in a soothing setting that will stimulate all your senses.
More Than Just a Room Rental
In addition to renting the Espace Harmonie, Auberge & Spa Beaux Rêves is pleased to offer a partnership program to instructors and event organizers wishing to add to the experience of their clients and guests.
What better way to enhance your day-long yoga and meditation event than with full access to the Nordic spa or a massage session? Our spa offers a unique concept with over 17 stations. Access to the spa or a massage treatment combined with your class will allow your guests to maximize the benefits of relaxation.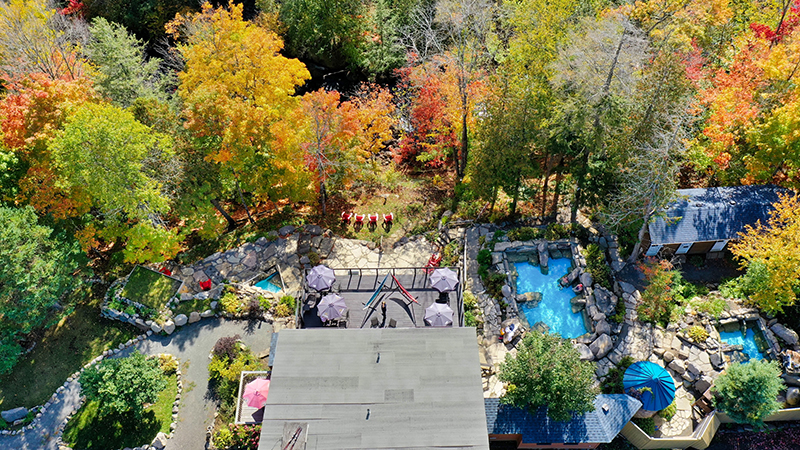 Cottage rentals are also available for more elaborate 2 or 3-day events such as yoga retreats. Our Merri Monti lodge is perfect for this type of event, accommodating up to 12 people and offering all the amenities for group dining. For those who prefer more traditional accommodations, the auberge has 9 suites with fireplaces, whirlpool baths, balconies, and river views.
Ask about our partnership program now!
A Dream Location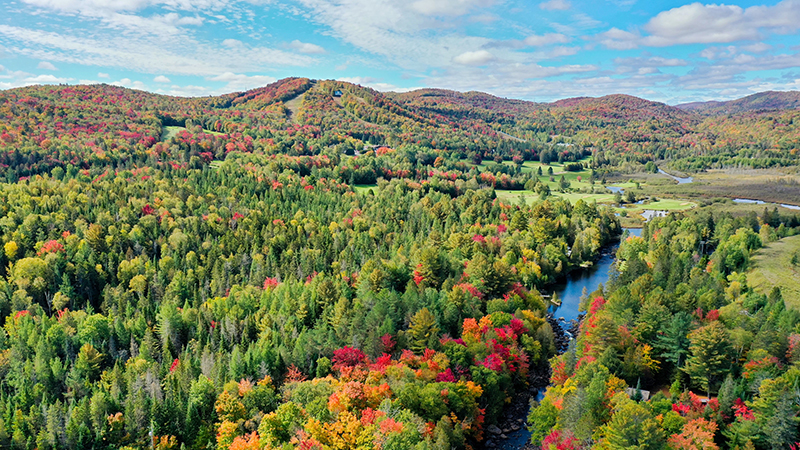 Organizing an event at Beaux Rêves not only allows you to enrich the experience of your clients and guests but also to let them enjoy the outdoor activities and attractions of the Laurentians.
Nearby, you will find several ski resorts, hiking trails, cross-country skiing and snowshoeing trails, bicycle paths, the famous P'tit Train du Nord linear park, and so much more.
In addition, the region also features a wide range of activities and attractions of all kinds, from microbreweries and distilleries to the Route des Belles-Histoires and various events.
Contact Us for More Information 
Want to offer your clients an incredible experience in a relaxing and welcoming environment? Contact us now to get more information on our Espace Harmonie room rental and the possibility of combining your event with access to our Nordic spa, room reservations or cottage rentals through our partnership program.