The Spring season is finally here and what better way to celebrate it than a girls getaway in the Laurentians? The beautiful region of the Laurentians will slowly start to put her spring coat on and it will be the best moment to discover all the locations and activities it has to offer. To inspire you and give you an idea of all the places you'll have the opportunity of visiting as well as all the activities you'll be able to try, we put together a short guide of the perfect girls getaway.
Tasty pleasures
The Laurentian region is known for its numerous restaurants. It's a choice destination to make new gourmand discoveries. The beautiful city of Saint-Adèle, located in the heart of the Laurentians, is ideal to experience an outstanding foodie adventure; it offers its visitors culinary options for all tastes.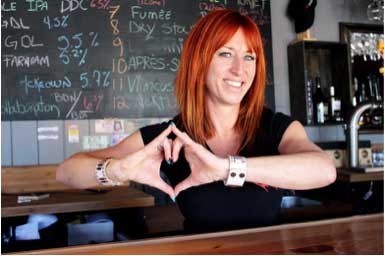 But when comes the time to relax and have some good time with the girls – especially if your girls getaway is in fact a bachelorette party – Microbrewery Gueule de Loup is the perfect place. This joint is synonymous with comfort food, relaxed atmosphere and pure enjoyment! To begin the evening, you could start by tasting a beer from the 18 artisanal beers line the microbrewery offers, or even one of their private importation wine or spirits. Once your appetite whet, it's time to enjoy one of their savory comfort meals, such as the BBQ chicken wings seasoned with salt and pepper or honey and Dijon, or the fish & chips. They also offer mouth-watering beer poutines, to which you can add pulled pork. But if you'd rather stay on the reasonable side, you should know that they also offer excellent hearty salads and soups.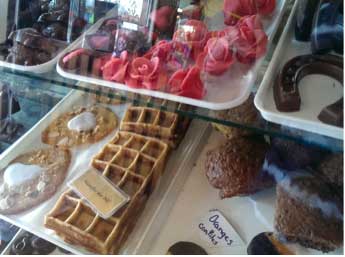 Another place you must visit while on your girls getaway is Chocolaterie Marie-Claude. In the sweet slice of heaven that is this artisanal chocolate shop, you will find, obviously, artisanal chocolate, but you will also find waffles, croissants, cream fudge and nougat. In other words, you'll find everything to put a smile on everyone's face!
Yoga and shopping
The Laurentians region is also known as being a haven of peace, perfect for meditation and yoga practice. You need to schedule a moment of quiet time on your getaway in order to rejuvenate and reenergize before resuming with renewed vigour. You're in luck: many renowned centers are located in the heart of the Laurentians.
Once you'll have recharged your batteries, you'll be all set to fully take advantage of all the activities the Laurentian region has to offer. And it wouldn't be a true girls getaway without an epic shopping session!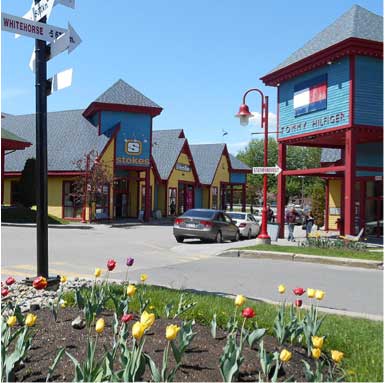 The city of Saint-Sauveur is the Mecca of shopping in the Laurentians. Located only 15 minutes (9 km) from Sainte-Adèle, Tanger Outlets in Saint-Sauveur gathers all the most popular brands in one convenient location – brands such as Guess, Nike, Tommy Hilfiger, La Vie en Rose, Puma, Reebok, Adidas, Atmosphère, Caroline Néron, Stokes, Dynamite/Garage, and many others. But the good news is that many of these stores offer factory pricing! These include Nike Factory Store, Guess Factory Store and Point Zero Liquidation. So, this is the perfect activity for your girls getaway!
Accommodations and Spa Treatments during your next girls getaway
For a successful getaway, accommodation conditions must meet the following three criteria: comfort, price-quality ratio and services offered. Auberge & Spa Beaux Rêves not only meets all these conditions, but it also offers everything you need for the perfect girls getaway; namely, spacious and comfortable guest rooms, that can host up to 4 people, an amazing Nordic SPA, which is private, not too busy and has everything you need for maximum relaxation, many spa treatments, ranging from massages to aesthetic treatments, and, finally, delicious breakfasts, bistro-lunches and the possibility of ordering alcoholic beverages.
Auberge & Spa Beaux Rêves offers spacious rooms for up to 4 guests, which is perfect for small groups! In terms of costs, it is very beneficial to book only one room for the small group, since the total accommodation costs will be considerably lower. For example, the average cost of Auberge & Spa Beaux Rêves superior room with 2 double beds is only 258$ for the 4 occupiers, compared to 356$ for two double occupancy rooms. The savings will obviously be significant. In addition, the room includes a balcony and air conditioning. Your comfort needs will thus be met. But that's not all: occupancy of a room at Auberge & Spa Beaux Rêves includes a breakfast buffet as well as a two-day access to the Nordic SPA!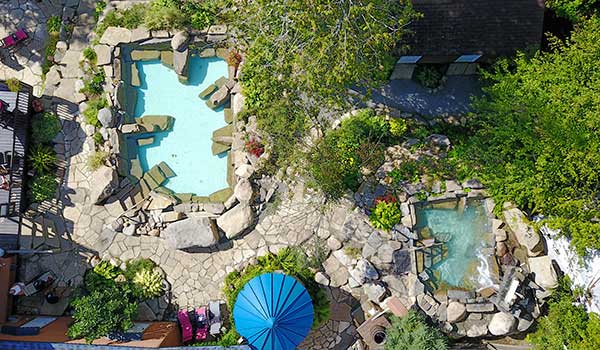 Beaux Rêves' Nordic SPA is unique in Sainte-Adèle. It is truly a little piece of heaven in the heart of the Laurentians. It comprises a natural stone thermal pool, a pool with jets, whirlpool and falls, a Finnish sauna with a barrel, a eucalyptus steam sauna, a cold pool with waterfall and even a relaxation area, including infrared lights, hammocks and zero-gravity chairs. You will be sure to fully relax, since, in addition to all these facilities, the site is bordered by a river – which is accessible from mid-May to mid-November!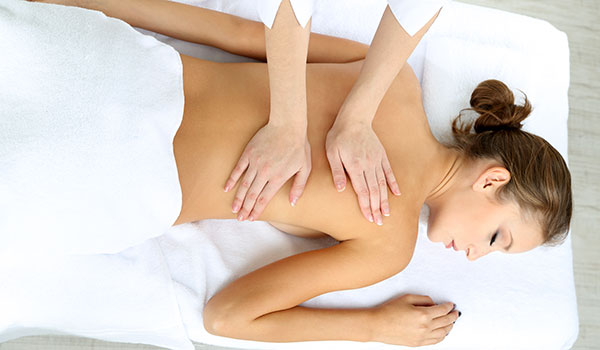 To fully take advantage of your girls getaway, complement your relaxing moments in the Nordic SPA with one or more of the numerous spa and aesthetic treatmentsoffered at Auberge & Spa Beaux Rêves. We offer two great spa packages: Magic Dreams and Day Dreams. The former includes 2 60-minute treatments of choice for only 140$ and the latter consists of 4 60-minute treatments of choice for only 250$. The treatments among which you may choose are varied and there is something for everyone. Four different types of massages are offered: Swedish Massage, Reflexology, Hot stone massage and Lymphatic Drainage. As for the body and aesthetic treatments, you can choose between a facial treatment, an entire body exfoliation, and a sea weed, mud or chocolate body wrap. If you do not wish to purchase a spa treatment package, you can simply choose individual treatments.
We invite you to discover our brand new one-hour dream salon circuit. The experience involves a pressure therapy, deluxe massage chair and your choice of either full-spectrum infrared sauna with chromotherapy or Siberian sauna.
So Auberge & Spa Beaux Rêves definitely has everything you need to plan the perfect girls getaway: spacious and comfortable guest rooms that can accommodate up to 4 people, a Nordic SPA that incudes everything you need for a memorable and relaxing moment, and numerous high-quality spa and aesthetic treatments to pamper yourself! So, gather your friends and come spend an unforgettable stay in the Laurentians. You will have the opportunity to enjoy delicious meals in good company, unwind and relax by participating to yoga classes, and have the best shopping session ever with your group of girlfriends.
Contact us today for more information about our services for groups. We will be happy to answer all your questions and to help you plan your girls getaway in the Laurentians.