It's time for all to get out and enjoy the winter wonderland that is the Laurentians, Quebec.  The ultimate winter playground where numerous activities await – snowmobiling, dog sledding, cross country skiing, alpine skiing, snowboarding, and snowshoeing abound.
The Laurentians are accessible to all, from near or far.  Within a one hour drive from Montreal and less than two hours from Ottawa, or fly in to Mont Tremblant International Airport if you are located further.
There are many snowmobile clubs in the area, who are knowledgeable about the provincial trails, and have an interest in maintaining them.  Snowmobile permits are mandatory for these federation trails and are available through the clubs as part of the FCMQ (Fédération des clubs de motoneigistes du Québec ).
Snowmobile Trails in the Laurentians
There are over 2,500 km of groomed and maintained snowmobile trails in the Laurentians, accessible from multiple entry points along the 37,000 km of trails in the province of Quebec.
Snowmobile groups can choose from a wide variety of trails.  From large trans-quebec trails for multi-day trips, to smaller regional and local snowmobile trails for those looking for a less adventurous excursion.
Here are some popular snowmobile trails for you to discover:
The Laurentians Forest
Expertise Level:  Friendly
Departure from Sainte-Adèle (loop length 54 KM)
This trail begins in Sainte-Adèle, runs through Sainte-Agathe-des-Monts with breathtaking views of Lac des Sables.  Trail 325 leads you to Saint-Faustin-Lac-Carré, and heads North to Lac de l'Orignal. The loop completes by following trails 33 and 43 south back through Sainte-Agathe-des-Monts to return to Sainte-Adèle.
From Station to Station
Expertise Level: Moderate
Departure From Rivière-Rouge (loop length 182 KM)
On Le P'tit Train du Nord linear park, ride toward Nominingue with stunning views of the majestic lake. Along your path you will cross La Minerve, Lac-des-Plages, La Conception and Labelle where you can discover many historical train stations.
The Picturesque
Expertise Level:  Friendly
Departure From Labelle (loop length 332 KM)
From Labelle's old train station, ride along Le P'tit Train du Nord linear park up to Mont-Laurier,
passing through the towns of La Macaza and Rivière-Rouge and along beautiful Lac Nominingue. Enjoy picture-perfect scenery at the Kiamika Regional Park and Lac Curières. On your way back to Labelle, you will cross near La Macaza-Mont-Tremblant international airport.
The Discovery Expedition
Expertise Level:  Friendly
Departure from Mirabel or Sainte-Agathe-des-Monts (length 312 – 361 KM, full loop 621 km)
The largest Trans-Quebec Snowmobile Trail with connections to local trails in the St. Adele area. Ride through Sainte-Sophie, and cross Estérel, to reach Sainte-Agathe-des-Monts.
The trail will take you through Val-David and Sainte-Adèle, and back towards Saint-Faustin–
Lac-Carré using the new TQ43 segment alongside autoroute 117 up to Mont-Tremblant. Return south using trail 317.
Whatever trail you choose, you can consult the interactive map of snowmobile trails in the Laurentians to plan your route.
When to Snowmobile in the Laurentians
Snow conditions are usually favourable from mid-December until mid-March. You can always check the quebec snowmobile trail conditions in the Laurentians before heading out.
To get you started, The FCMQ is offering an open house (January 18-19, 2020) to sample the snowmobile trails and obtain a free temporary trails permit.
Where to Stay in the Laurentians After a Day of Snowmobiling
Snowmobile groups on multi-day excursions, can look forward to staying at a cozy chalet in the Laurentians and relax at a rejuvenating spa located conveniently just off the snowmobile trails.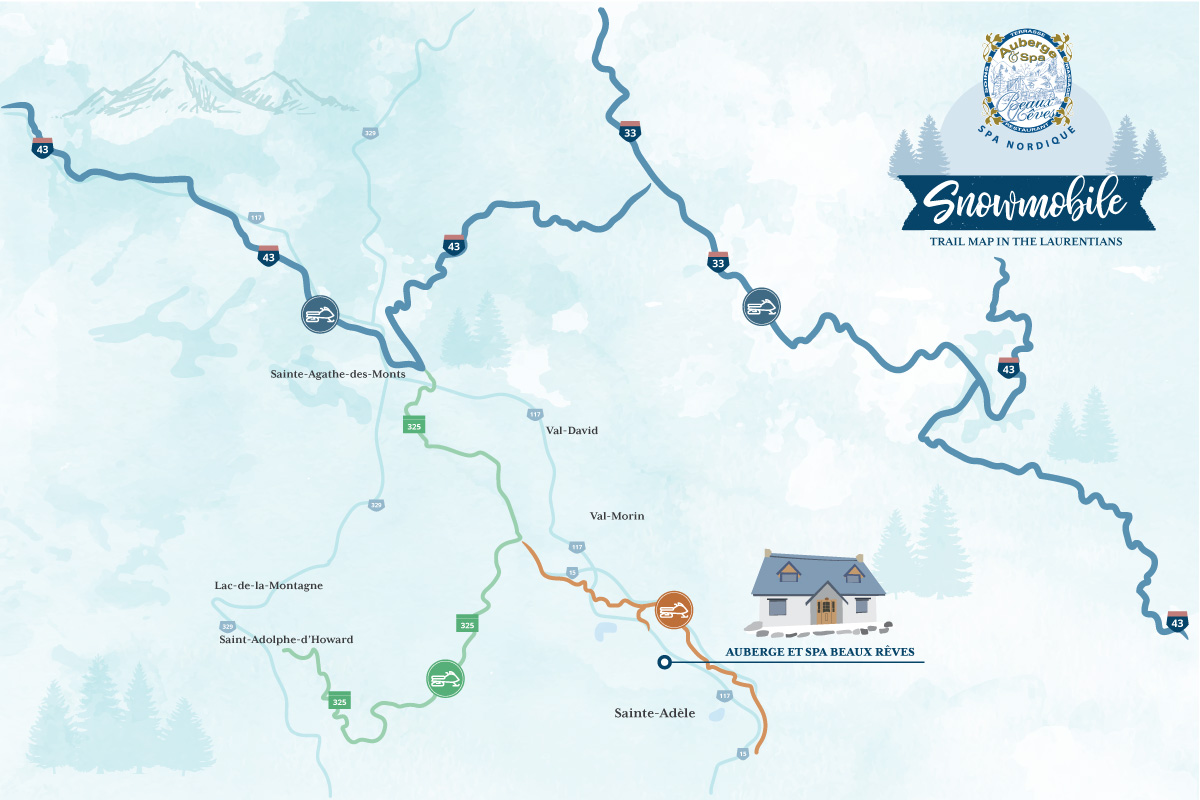 Download The Map
At Auberge & Nordic Spa Beaux Rêves, we welcome snowmobile groups to benefit from our nordic spa experience to unwind and ease tired muscles at the end of a long day on the trails.  Located next to our main Auberge rooms and suites, our chalet for rent in the Laurentians can accommodate groups of 6 in our fully-equipped rustic Cozy Cottage with welcoming fireplace and kitchen.  Our newest adjacent four-story Merri Monti lodge, can comfortably house additional people with 4 floors, 4 bedrooms (1 king and 7 twin beds), also featuring a full kitchen and inviting fireplace.  Additional portable mattresses are available upon request.
We have a separate parking area only accessible to snowmobiles located behind our Merri Monti lodge, or if you require even more secure parking, arrangements can be made at Desjardins Marine situated just a half a kilometer away.
All guests staying at our Riverview properties can benefit from a 50% discount on Nordic Spa access and a 25% discount on all spa treatments.  Our Nordic Spa experience can include a one hour Dream Circuit in our Salon des Reves.
Other Winter Activities in the Laurentians
If you are not part of a snowmobile group, you can add an introductory snowmobile excursion to your stay. We offer half-day snowmobile and one-hour dog-sledding packages.
Auberge & Nordic Spa Beaux Reves is situated near 12 popular alpine ski locations. Après-ski at our Nordic Spa is a great way to end a day on the mountain.
The most popular linear park "P'tit Train du Nord" crosses our region and is perfect for cross-country skiing. Dozens of trails link to this major axis connecting many little towns to discover along the way.