Nordic Spa in the Laurentians Reimagined for Today's World
Plan a visit to our marvellous Nordic spa, a must-see destination in the Laurentians. You'll discover the most complete spa circuit in the region to relax and recharge.r.
The Beaux Rêves Nordic spa: the most complete and authentic circuit in the Laurentians
Our spa offers a vast selection of relaxation stations and treatments that are included in most of
our packages
. Come discover the rich diversity of our facilities inspired by wellness and relaxation expertise from Scandinavian countries. Allow yourself to slow down, maybe even stop for a moment, with your partner, friends or a group.
A thermal experience like no other
The Beaux Rêves thermal experience is quite simple: hot, cold, relaxation, repeat!
Relax and eliminate the toxins in your body. The spa circuit usually begins with 10 or so minutes in a sauna to raise your body temperature. As you admire the spectacular view of the river, your pores will open up to release toxins and your skin will regenerate. This step will relieve your tired muscles and allow your mind to be set free to achieve an overall feeling of well-being.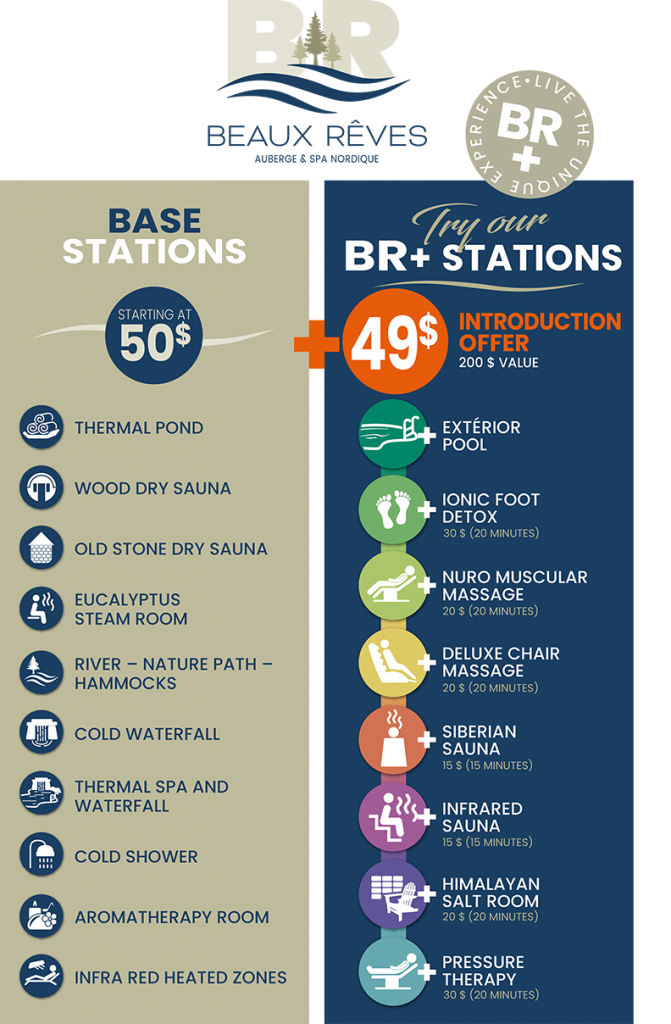 Dry sauna – wood
Dry sauna – stone
Infrared sauna
Siberian sauna
Steam room
Heated pool
Heated whirlpool and waterfall
The next step involves plunging into cold water for a few seconds. In spring, summer or fall, immerse yourself in the majestic river that runs along our property. During the winter months, you can roll in the snow! This part of the circuit closes the pores of your skin and awakens your mind, leaving you feeling refreshed and invigorated.
Mulet River (seasonal)
Outdoor pool (seasonal)
Cold waterfall
Cold shower
Alternating hot and cold cycles stimulates blood circulation, releasing adrenaline which leads to the secretion of our "happy hormone" serotonin. Now it's time to sit back for 30 minutes and enjoy the benefits of your thermal experience. Then, repeat the cycle three times to achieve a state of total well-being and experience the cycle's many physical and psychological benefits.
Relaxation area with infrared panels
Mulet River (seasonal)
This is where Beaux Rêves has stepped out of the box, adding to the traditional thermal experience for a truly unique offering. We offer all sorts of treatments inspired by the latest trends in Scandinavian countries, most of which are included in your visit to the Nordic spa.
Ionic foot detox
Compression therapy boots
Neuromuscular massage
Massage chairs
Repeat the cycle 3 times to maximize the benefits and achieve a state of overall well-being.
It's important to stay hydrated and drink plenty of water during the circuit.
Complete your spa day with a relaxing massage that will bring you to cloud 9! Massage therapy receipts are available upon request.
The thermal experience (Nordic circuit) is not recommended for people taking certain medication, if you are pregnant, suffer from a heart condition, high blood pressure, respiratory problems, angina, diabetes or any other health issues. If in doubt, please seek the advice of your physician prior to your visit.
Drinking alcoholic beverages is not recommended during the cycles.