The thermal experience like no other
Our BR+ stations are inspired by the latest Scandinavian trends in wellness treatments. Discover the benefits of pressure therapy, neuromuscular massage, our Siberian sauna and Himalayan salt room, and much more with our Premium BR+ package. You'll have access to all our stations for a unique and complete relaxation experience. Reconnect with your mind and body as you use our facilities and amenities at your own pace..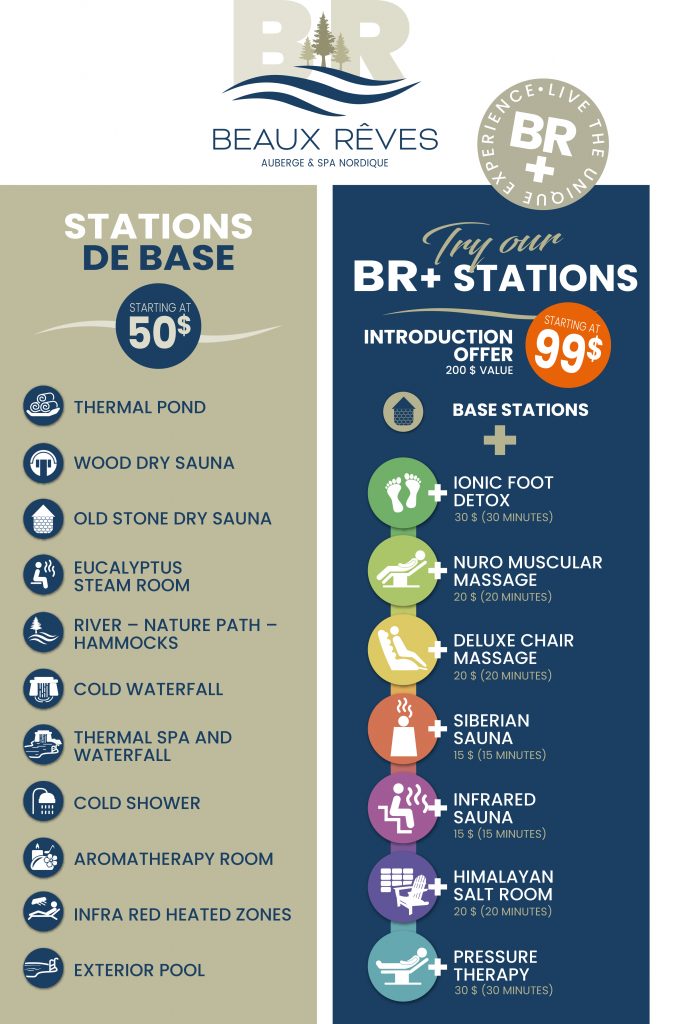 Relax and eliminate the toxins in your body. The spa circuit usually begins with 10 or so minutes in a sauna to raise your body temperature. As you admire the spectacular view of the river, your pores will open up to release toxins and your skin will regenerate. This step will relieve your tired muscles and allow your mind to be set free to achieve an overall feeling of well-being.
Dry sauna - Wood
Allongez-vous et laissez le stress s'évaporer dans l'un de nos deux saunas secs. La chaleur sèche a des effets profonds sur le corps. Pendant que vous vous détendez, vous éliminez les toxines, soulagez les maux et douleurs de votre corps en plus de purifier votre peau.
Dry sauna - Stone
Step into the soothing dry heat of this sauna located in our charming stone turret.
Infrared sauna BR+
Infrared saunas emit rays that resemble those of the sun, warming your body from the outside in. This station will greatly contribute to you achieving a state of well-being. It's also an effective natural healing tool and can help prevent various ailments
Siberian sauna BR+
Experience a wonderful mini Siberian sauna session which, through heat, increases blood circulation and relaxes muscles, but allows you to keep your head outside. This resort offering individual spaces is particularly popular for people who do not like breathing the hot air of the dry sauna or who experience a feeling of claustrophobia.
The next step involves plunging into cold water for a few seconds. In spring, summer or fall, immerse yourself in the majestic river that runs along our property. During the winter months, you can roll in the snow! This part of the circuit closes the pores of your skin and awakens your mind, leaving you feeling refreshed and invigorated.
Mulet River
This is the perfect place to enjoy a moment of tranquility and bathe in the natural whirlpools formed by the rushing water.
Outdoor pool
Take a dip in the pool on our new property across from the inn. After, relax in the sun as you dry off. And don't forget to bring a book!
Cold waterfall
Experience the invigorating sensation of our cold waterfall running over your body. This station is a key part of the traditional thermal experience and a great choice to complete the hot-cold circuit. It brings profound relaxation both physically and mentally.
Cold shower (hammam)
After experiencing our steam room where your body temperature increased, have a cold shower to awaken a feeling of release that will benefit your entire body.
Alternating hot and cold cycles stimulates blood circulation, releasing adrenaline which leads to the secretion of our "happy hormone" serotonin. Now it's time to sit back for 30 minutes and enjoy the benefits of your thermal experience. Then, repeat the cycle three times to achieve a state of total well-being and experience the many physical and psychological benefits.
Mulet River
Listen to the soothing sounds of nature as you relax on a lounger or hammock by the river. It's the perfect place to enjoy a peaceful mome
Relaxation area with infrared panels
Offer yourself a moment of pure tranquility in one of our lounging chairs. Restore your body and your mind while surrounded by the natural beauty of the Laurentians.
This is where Beaux Rêves has stepped out of the box, adding on to the traditional thermal experience for a truly unique offering. We offer all sorts of treatments inspired by the latest trends in Scandinavian countries, most of which are included in your visit to the Nordic spa.
Aromatherapy and sound therapy room
Enjoy a moment of tranquility in our aromatherapy room. It's an excellent way to improve your physical and emotional health. Discover the many healing properties of essential oils in a serene setting while letting your mind escape to the sound of soft, soothing music.
Himalayan salt room BR+
Himalayan salt is used to create a unique atmosphere that promotes total relaxation of the body and mind. Halotherapy refers to the use of microparticles of salt to help relieve respiratory and skin conditions. Simply lie down and breathe.
Ionic foot detox BR+
Make yourself comfortable in one of our detox chairs and allow our innovative ionic system to detoxify your body through your feet.
Massage chairs BR+
Sit back and let your tension melt away. Our state-of-the-art massage chairs can recreate a number of different massage techniques, making it feel like you're receiving a professional massage
Neuromuscular massage BR+
Lean back in one of our Neuro chairs and prepare to experience a session of full body and mind relaxation created by a symphony of pleasant, soothing sensations synchronized to captivating music designed to stimulate your nervous system.
A Nordic spa like no other
Located in the Laurentians, less than one hour from Montreal, Auberge et Spa nordique Beaux Rêves strikes a perfect balance with nature for a soothing, unforgettable experience.
Intimacy
Spread out over our vast riverside property, our many stations provide a welcoming and calming semi-private experience. We limit the number of guests to ensure our facilities are never crowded.
Social dimension
Unlike other spas, Nordic spa doesn't frown upon quiet conversations, allowing you to fully enjoy the company of the person or people you're with.
Safety
The health and safety of our guests remain a top priority for our team. Learn more about the health and wellness measures we have implemented.
Nature in all its beauty
Come enjoy our various stations and the spectacular view of the forest and river as you relax to the sound of soft rushing water.