Looking to surprise your significant other with a unique, romantic gift this year? Our auberge and spa in the Laurentians has got you covered! Below we've listed 5 romantic gift ideas in the Laurentians to surprise your special someone. We're here to help you create the perfect romantic holiday experience in the Laurentians for your lover this Christmas. Our suggestions range from relaxing and intimate to inventive and adventurous; pick the option that fits your special someone the best!
1. Nordic Day Spa Package in the Laurentians
Who doesn't like to relax and be pampered? Especially after the chaos of the holiday season! Show her or him how much you care and treat them to one of our day spa packages in the Laurentians. Our recently renovated Nordic spa in the Laurentians is luxurious and just what you need to unwind. With our day spa packages you'll get access to our unique Nordic spa, our spa treatments, and more; our spa treatments include a range of massages and body and aesthetic treatments. Browse through our packages and decide which is tailored for your significant other.
2. Romantic Couples Spa Packages in the Laurentians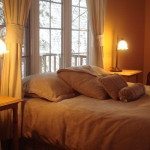 Treat your significant other (and yourself!) to a romantic getaway in the Laurentians! We offer several auberge and spa packages in the Laurentians. Discover our romantic couples spa packages, which include gourmet table d'hôte dinner(s) of 4 or 5 courses, and access to our Nordic spa and to our spa treatments. Our suites are intimate and relaxing, and perfect for you and your loved one to escape.
Not ready to make an executive decision? Buy your special someone a gift certificate and let them decide which couples spa package or nordic spa package suits them best!
3. Couples Winter Horseback Riding in the Laurentians
Picture it – the two of you, side by side, in the heart of the forest, surrounded by snow covered branches, on the beautiful mountain riding trails of the Laurentians, during a light snowfall. Sold yet? What if your romantic, scenic adventure is followed by a soothing soak in our outdoor thermal salt water pond and a relaxing massage? Convinced? Discover our year round horseback riding packages, as well as our day spa and activity packages.
4. Day at Doncaster Park followed by a Romantic Dinner in the Laurentians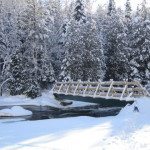 Horses aren't your thing? What about hiking or snowshoeing? Bundle up and spend the day outside discovering the wonderful, breathtaking scenery of Doncaster park; hike or snowshoe along the river, deep in the forest, or make your way to the summit and discover a magnificent view of the Laurentians. Afterwards, book a romantic dinner at one of the Laurentians most intimate restaurants. A few recommendations: Chez Milot or La Chitarra in Sainte-Adèle or Gibby's in Saint-Sauveur. Plan a unique, full day experience they'll never forget!
5. Couples Helicopter Ride in the Laurentians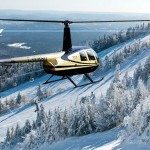 This suggestion is not for the faint-of-heart; take your lover's breath away (and probably yours as well!) with a helicopter tour of the Laurentians! Give her or him a view of the Laurentians like no other. Mont-Tremblant offers helicopter rides year round; book the ride around the holiday season or schedule the surprise for the fall or summer. Our suggestion is the 1-hour escapade tour, which includes a stop at the top of the mountain to take in the view and to sip on some wine.
We hope you enjoyed our romantic gift ideas in the Laurentians and found something on our list that's perfect for your significant other! Whether you book a couples spa package at our auberge and spa, book a treatment at our Nordic spa in the Laurentians, or plan an outdoor adventure for you and your loved one, we're sure it'll be an experience they'll never forget! Happy holidays from Auberge et Spa Beaux Rêves!