Winter is good for a lot of things – fun outdoor activities, Christmas, picturesque scenery – but one thing it is not good for is your skin. The cold chill of winter leaves your skin dry, dull, and lifeless. That's why, when the snow starts to melt and the days start to get longer, your skin is in dire need of an overhaul. It's time to refresh and renew your skin. Below, our Nordic spa in the Laurentians has outlined the many simple ways you can rejuvenate your skin for spring and how we can help!
1. Exfoliate
This past winter has been particularly harsh and has no doubt left you with dry skin due to an accumulation of dead skin cells. Exfoliating your skin will help scrub away those dead skin cells and reveal the radiant, smooth complexion that's underneath. Use a mineral salt or a sugar scrub to exfoliate your skin a couple of times a week and unveil new, glowing skin!
Better yet – lie back and relax and let us do it for you! Our special exfoliation treatment combines massage and exfoliation to facilitate hydration and remove dead cells from the skin. Prepare yourself for unequalled relaxation and beautiful skin!
2. Get a Facial
Put your best face forward for spring! Take your exfoliation one step further and revitalize your appearance with a facial.
Our in depth treatment is ideal for all skin types and will leave your skin fresh and revitalized. Here's how we do it: First, we scrub away the dead cells that winter has left on the surface of your skin; then, we use a cleansing mask to revitalize your skin. A vaporization of essential oils, the extraction of blackheads, and a neck massage are included in the treatment.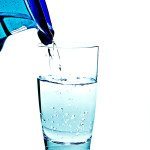 3. Drink More Water
Yes, it's that easy. Think of your skin as a sponge; without water, it dries up. Your skin needs water to retain it's natural smooth texture and glow. So drink up!
Tip: infuse your water with cucumber or lemon to keep it interesting!
4. Warm Showers
Warm – not hot! Hot water is tough on your skin and burns away several important minerals and oils, which leaves skin dry and cracking. Using lukewarm water in the shower will ensure that your skin keeps its moisture and is refreshed and radiant.
5. Moisturize
There's no more straightforward way to give your dry skin back the nourishment that it needs than to moisturize it. Moisturizing once a day is a great and easy way to keep your skin looking healthy and nourished. Make it part of your routine – moisturize every night before bed, or after every shower; whatever fits your schedule.
Tip: use a moisturizer that's oil-based; water-based moisturizers are fine in the summer, but to recover from winter's harsh conditions, your skin needs something with a little more kick! Moisturizing with an oil-based moisturizer will create a protective layer on your skin that will help it retain moisture.
Bonus: Wear Sunscreen
A big misconception is that you only need to wear sunscreen during the summer; however, it's just as important to wear it in the winter! Wear sunscreen in the winter (and all year round!) to protect your skin from the damaging effects of UV rays. Protecting your skin year round will keep it looking radiant and healthy.
Follow these simple tips and your skin will look renewed in no time! In fact, why not treat yourself to a treatment at our spa in the Laurentians? Contact us to reserve your treatment now. We also offer overnight spa packages which allow you to experience our cozy auberge in the Laurentians, as well as benefit from our specialized treatments and Nordic spa; rejuvenate your mind while you rejuvenate your skin!