In the summer, the Laurentians is the ideal location to get out, get adventurous, and try a new activity. With its vast forests, lush mountains, and cascading streams, there's a way for everyone to stay active. Located in the heart of the Laurentians, in the town of Sainte-Adèle, our auberge and spa is located near countless summer activity spots – so you can bet we have plenty of suggestions for staying active this summer! Here is our list of activities that you have to try this summer in the Laurentians:
Spend an Afternoon on The Golf Course
The Laurentians is home to many beautiful golf courses, such as Golf Chantecler, Golf Piedmont, Golf de la Vallée de Sainte-Adèle, Golf Royal Laurentians and Golf de Val Morin; make the most of a sunny day in the Laurentians and get out your golf clubs and go hit some balls! Coming from out of town? Book a one-night or two-night golf package in the Laurentians at our auberge and spa; our packages all include an 18 hole round of golf, and access to our Nordic spa. After a long, hot day of golf, relax and soothe your muscles at our Nordia spa facilities along the river, followed by an excellent dinner at one of our partner restaurants.
Explore The Laurentians on Horseback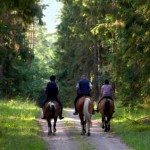 Get up close and personal with nature and explore the beautiful Laurentian landscape by horseback. Have you heard? We're one of the top locations in the Laurentians to book a horseback riding getaway. Book a horseback riding escapade in the Laurentians with us and experience 2 hours of horseback riding in the forest, as well as access to our Nordic spa, a 60 minute spa treatment, and more.
Conquer the Laurentians by ATV/Quad
Looking for even more "horsepower"? Adrenaline junkies can explore the Laurentian scenery by ATV; the landscape makes for ideal trail riding and a magnificent view. Book a 2 night stay ATV package in the Laurentians with us and get access to a ½ day ATV/Quad guided tour and our Nordic spa. Plus, insurance, gas, oil, and clothing are all included! Following your expedition, a comfortable room or suite awaits you, as well as a succulent table d'hôte supper at one of our partner restaurants.
Hike the Awe-inspiring Landscape
The Laurentians packs plenty of hiking trails for all levels. Tie up your running shoes and hike the breathtaking scenery of the Laurentians, exploring the forests, rivers, and mountain-top views. The Laurentians has many parks which are ideal for a summertime afternoon hike; Doncaster park, Le Petit Train du Nord, the Val-David and Val-Morin parks and the Aerobic Corridor, as well as parks in Sainte-Adèle, all offer excellent trails to help you become "one with nature".
Canoe or Kayak The Lakes and Rivers

Get off land for a bit and paddle your way through the Laurentians by canoe or kayak. Whether you prefer a leisurely paddle or a rougher, more experienced expedition, the area's many lakes and rivers offer something for everyone. There's no better way to enjoy a hot summer day in the Laurentians than on the water.
Ride Through The Laurentians on Two Wheels
The Laurentians offers some of the best biking trails in Quebec. Bike the trails of the Petit Train du Nord and discover the beautiful landscape of the region while getting a great workout!
Want to book an activity getaway in the Laurentians but can't decide on just one activity? No problem! Our auberge and spa offers a 3 night multi-activity package which includes canoeing, cycling, horseback riding, access to our Nordic spa and a spa treatment! There's nothing more rewarding after a full day of outdoor activities than getting pampered at the spa! Your muscles can thank us later.
This summer, don't find yourself spending the warm, sunny days in the Laurentians on the couch! Take our advice and try one of the fun activities and make it a getaway to remember. And don't forget your sunscreen!