This summer, if you live in the Laurentians, you have no excuse for spending your days or nights indoor; and if you live only a short drive away, you have no excuse not to come visit! The touristic region of the Laurentians in Quebec offers plenty of cultural events, festivals and activities to keep you busy all summer long. The region's expansive landscape and forests also offer countless opportunities to get active or to unwind. Here are the many ways you can keep busy in the Laurentians this summer:
Go to a Festival
Throughout the summer months, the Laurentians hosts countless festivals across the region; each municipality in the region hosts several festivals, with the majority emphasizing music and art. Some festivals are just for a weekend, while others include events throughout the entire summer; be sure to plan ahead if there's an event you don't want to miss! Browse through a list of the summer festivals in the Laurentians and decide which you want to check out.
Here are a couple of suggestions:
Festival des arts de Saint-Sauveur
July 30 to August 8, 2015
Vallée de Saint-Sauveur
Saint-Sauveur, QC
J0R 1R0
150E Anniversaire de Sainte-Marguerite-de-Lac-Masson
Throughout the summer in Sainte-Marguerite-de-Lac-Masson
Tremblant International Blues Fest
July 3-12 2015
Mont-Tremblant, QC
Attending a festival from out of town? Spend your days at the festival, and spend your nights with us.
Plan an All Day Excursion
As we've previously mentioned, the Laurentians offers any outdoor activity you can think of. Hike through Doncaster park or bike the trails of le P'tit Train du Nord; get out and discover the region! Pack a picnic, get your gear out, and spend the day outdoors!
We offer several overnight activity packages, which include access to our Nordic spa, as well as a table d'hôte supper.
Get Cultural
The Laurentians is much more than mountains and forests; the region also has a vibrant cultural scene. This summer, visit one of the numerous summer exhibitions in the area, such as:
1001 Pots exhibition in Val-David from July 10 to August 16
Outdoor Cinema in Saint-Sauveur on select nights from June 19th to August 21st
Nostalgia Evenings in Sainte-Adèle July 4, 11, 18, 25 and August 1, 8.
And much more
And of course, Summer Theatre in Sainte-Adèle and Saint-Sauveur is back! The two plays this summer are Sacrée Famille at Théâtre Saint-Sauveur and Coco Chatel at Théâtre Sainte-Adèle. Our auberge and spa in the Laurentians offers several Theatre Packages to help you get cultural AND get pampered this summer!
Relax at the Spa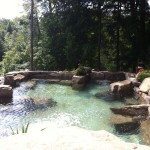 With its serene atmosphere, lush scenery, and overall tranquility, the Laurentians is the ideal location to relax and unwind. No wonder the region is home to countless spas. Our Nordic spa includes a thermal pool made of natural stone, a cascading waterfall and a traditional Finnish barrel sauna. We offer numerous day spa packages, as well as overnight spa packages. Reserve your spa package with us today.
No excuses, time to get out and discover the Laurentians! The summer will be over before you know it, so be sure to make the most of it. Enjoy!